Ecotourism and sustainable tourism in Italy is at an important turning point. The whole travel industry is living very challenging times during which everyone has the opportunity to look back and start building again a new world on a day-to-day base: we, at FindYourItaly, specialize in sustainable tours in Italy as we believe ecotourism and sustainability are and should always be the main direction for the whole travel industry. 
Today we would like to share with you our new projects and visions on how we plan to refresh tourism to give it an increasingly sustainable approach in Italy.
Sustainability at the core: our vision for ecotourism in Italy 
Ecotourism in Italy is not just a fad.  By analyzing how tourism and the sensitivity of travelers are changing over time, we as a professional tour operator always want to offer a product that meets new needs and definitely help our agents to sell higher quality tours.
Our tours are already developed in accordance with the sustainability best practices; nonetheless, we know we will need to meet unprecedented levels of quality for our local tours and do our best to support you in the recovery as well as that of Italian sustainable operators. This year we are going to a whole new level of quality by spending more energies and resources to find and select specific partners to provide a whole new sustainable experience to our customers. 
Our new sustainable experiences include a new quality level in terms of: 
Keep reading: 
Helping you support ecotourism in Italy with a sustainable choice
People are the real added value of our travel experiences. In order to help you resell sustainable and ecotourism travel options in Italy, while supporting our local network, we crafted a special Gift Card & Vouchers Campaign, with different budgets for all levels. 
Ecotourism in Italy means more Authentic and valuable Experiences
Secondary cities and destinations will be more important now than ever before: the perceived value of these destinations is enhanced thanks to easier applicable safety measures as well as being less hit by "tourists", offering a more local and safer experience at the same time.  Moreover, unlike tourism-heavy locations, by visiting lesser-known destinations customers get more value for money, optimizing their budgets to their best.
Relying on a local tour operator to keep ecotourism quality level high in Italy
According to the Center for Responsible Travel (CREST) latest industry study, The Case for Responsible Travel: Trends & Statistics 2019, while consumer demand for sustainable tourism keeps growing, businesses and destinations have a key role in terms of raising awareness and educating travelers about sustainability. This is why we are here to support you and your customers to find always sustainable travels to Italy together with a full insight into what ecotourism and sustainability means when applied to the tourism industry in Italy.
Keep reading: 
Sustainable tours and ecotourism examples in Italy
Italy has a wide range of options when it comes to choosing a sustainable travel experience that can be included in the ecotourism system. From riding a horse in Tuscany to walking along the most stunning cliffs in Liguria, your customers are more than welcome to live a whole ecotourism experience in Italy. 
Here some sustainable ecotourism and sustainable tours examples in Italy your customers will love: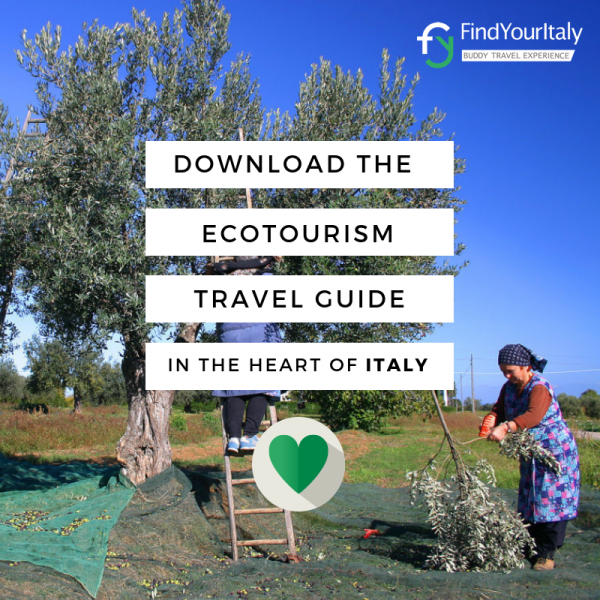 Last but not least, do not forget to Download our Ecotourism Travel guide in the heart of Italy where we highlight what Le Marche and Abruzzo regions in Italy offer to real ecotourism fans.