At FindYourItaly, we care about people's well-being and health. That's why we focus greatly on active, sustainable and eco-friendly tours. So, in order to improve visitor's mental and spiritual health, we strongly recommend a meditation retreat in Italy. While it's true that you can go on a meditation or spiritual retreat pretty much anywhere, Italy has the added benefit of also offering the opportunity to eat deliciously and healthily, as well as partake in lots of fun outdoor activities.
5 Reasons to Go on a FindYourItaly Meditation Retreat in Italy
If you're a tour operator or even a regular traveler who's looking for a wellness retreat in Italy to find yourself again or to let other people find themselves again, please consider FindYourItaly as your helpful provider. Below, we've listed a handful of reasons why we think you should go on a meditation or spiritual retreat in Italy with us.
1. Personalized Tours and Activities
All our tours, not just our wellness retreats in Italy, are entirely customizable so that you or your customer will always feel taken care of. You're free to propose, include, change or eliminate activities in accordance to your needs or wishes. We think it's essential to make sure that people feel comfortable no matter what they do, yet are also encouraged to push some of their boundaries. This includes yoga lessons, changing eating patterns, being more active,…
2. Small Groups
None of our wellness retreats in Italy involves huge groups. After all, the bigger the group, the more small talk happens and the fewer opportunities arise to form in-depth personal relationships. Large groups are also "busier" and, as such, there's less quietness to work on oneself. Therefore, we decided to keep our groups small in order to provide the absolute best environment for self-improvement.
3. Eco-Friendliness
Sustainability is at the core of all our listings. At FindYourItaly, we think that being eco-friendly is the future. All travel agents and tour operators should jump on the sustainability bandwagon and shift their focus toward being sustainable. We've already done it! We strive to make our offerings as eco-friendly as possible by working with local providers, sustainable and/or organic farms, and other local businesses.
4. Positive Reviews
There's no reason to go on a meditation retreat in Italy with us that's as good as a great review. Check out some reviews below. You can also find more reviews on TripAdvisor.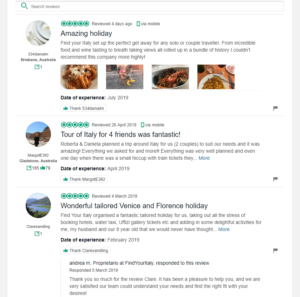 5. Multiple Fun Activities
Besides focusing on self-improvement, meditation and/or yoga, our spiritual retreat in Italy packages also feature lots of other fun stuff. This is Italy, after all, and it would be unacceptable to leave out activities related to beautiful nature or world-class food. All tours do focus on slow travel, though. But that only means there'll be more time to actually enjoy those activities, whether it's walking or biking through the breathtaking countryside or indulging in mouthwatering food and wines.
If you'd like to learn more about what we can offer you in terms of wellness retreats in Italy, please check out this overview: as we offer a highly personalized service, please feel free to request a personalized quote.